1951-1952
From November to February the following year, he participates in the land reform of Huaibei, Anhui Province.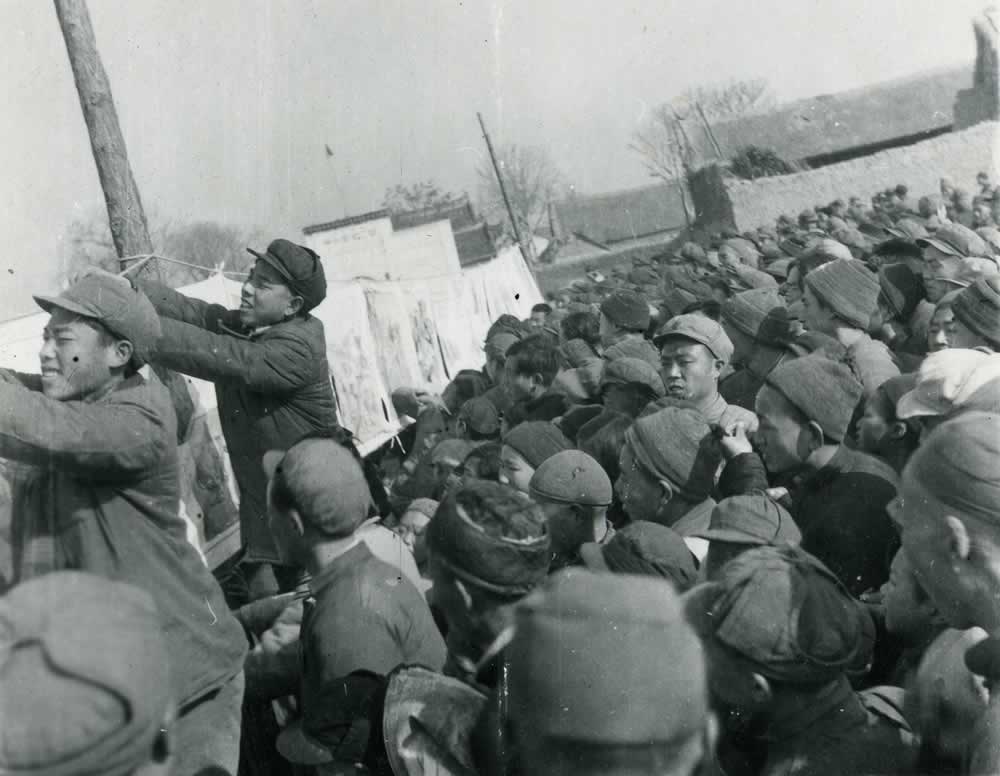 The Land Reform Art Group prepares an exhibition for peasant farmers. The person on the left hanging a painting is Pang Jiun.
1953
Between January and February, because of his father's new job, he transfers to the China Central Academy of Fine Arts in Beijing. Here he studies under masters such as Xu Beihong, Wu Zuoren, and Luo Gongliu, and he receives French academic-style training in drawing. Since Qiu Ti does not want her son to leave school life too early, she meets with Academy President Xu Beihong to discuss letting Pang Jiun study for another year.

With Luo Gongliu and others, he applies for admission to the Academy of Arts of the Soviet Union. Although he is accepted, there is a problem with quotas, so he is sent instead to Czechoslovakia to study puppet shows. Unwilling to do that, he is later given the option to go to Moscow to study film art. However, Pang Jiun firmly holds to his oil painting ideals and turns down the opportunity to study abroad.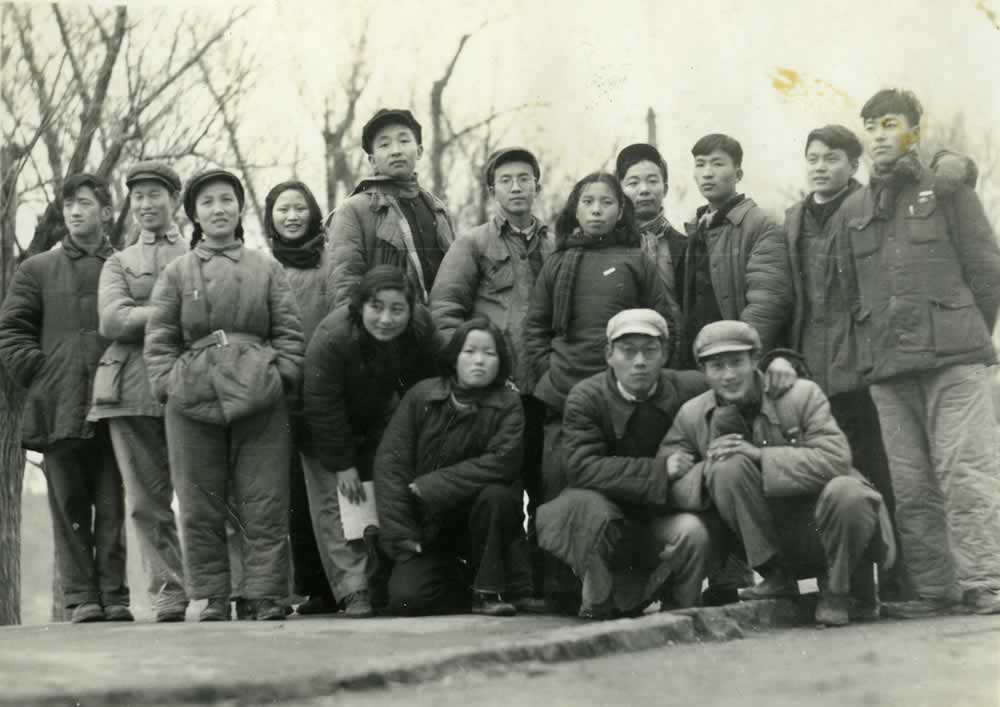 Just before leaving the East-China Campus of Central Academy of Fine Arts (originally National College of Art, Hangzhou), in January 1953, Pang's classmates take a group photograph with him. Pang is standing on the right.
1954
After graduating from the Central Academy of Fine Arts, Pang Jiun works as a creative artist for the Fine Arts Studio of the Beijing Municipal Bureau of Culture, while at the same time he teaches courses on drawing and watercolor at the Beijing Mass Art Center. This continues until 1961.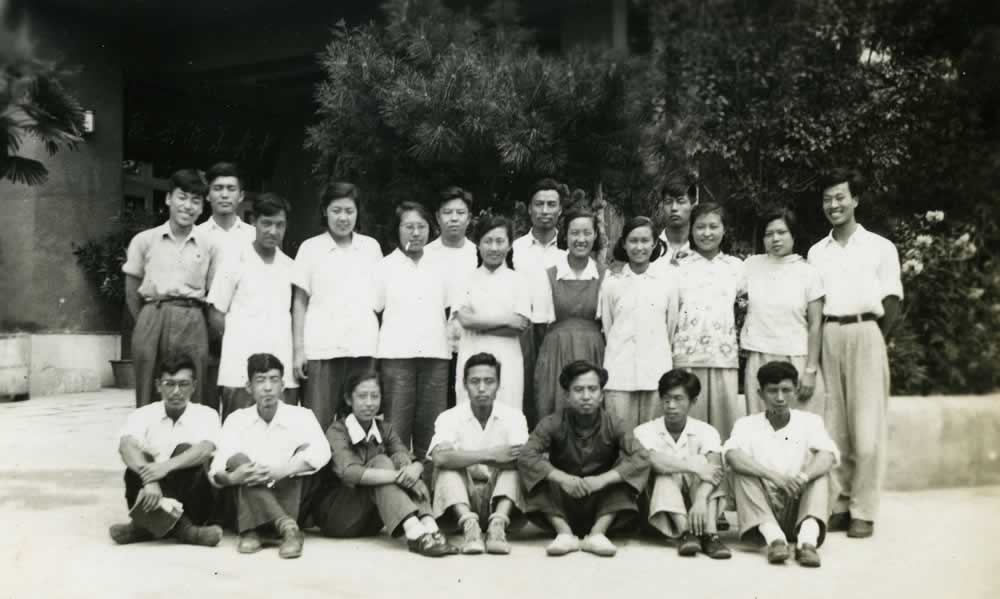 Group photograph of the graduating students from the ding class, third year, of the Dept. of Painting at Central Academy of Fine Arts, Beijing, taken in 1954; Pang Jiun is the first person on the left in the back row.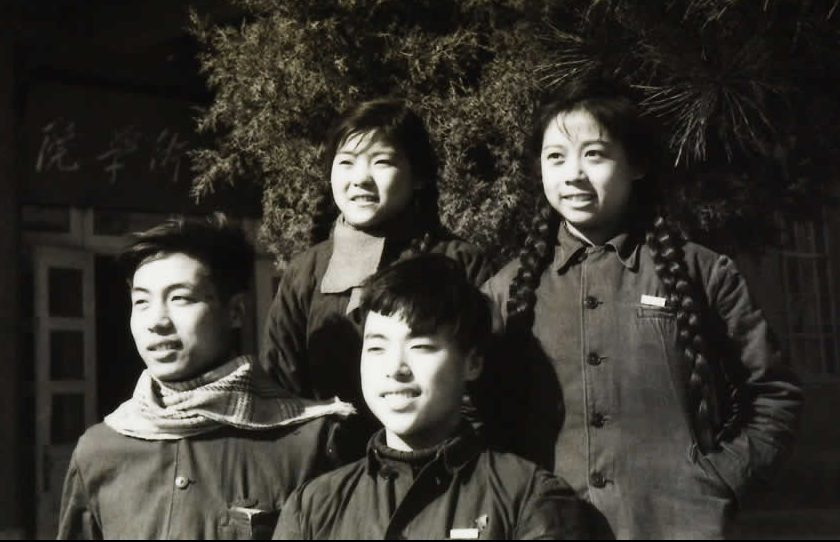 Assisted Central Academy of Fine Arts, Beijing, in recruiting its first affiliated school students. Photo taken in February 1954.
His watercolor painting, The Twenty-four Room Villa of Beijing, is selected for inclusion in the First National Watercolor and Drawing Exhibition, and it is displayed from August 6 to 22 at Chengqian Palace in the Forbidden City. The same exhibition shows works by Lin Fengmian and Wu Guanzhong.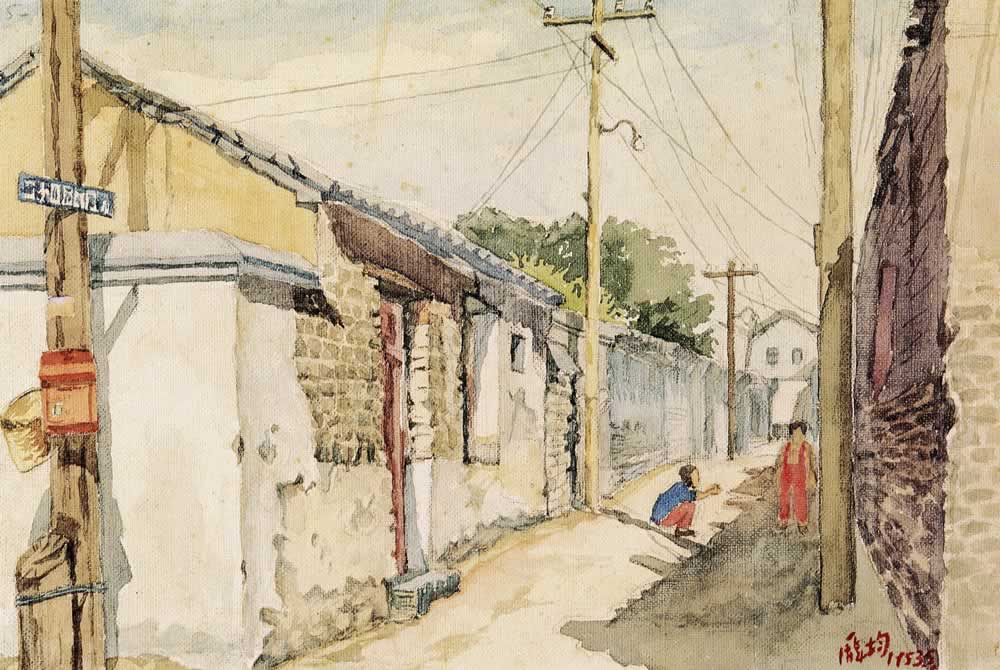 Pang Jiun, The Twenty-four Room Villa of Beijing, 1953, Watercolor on paper, 18.7 × 28 cm.
1956
At the age of 20, he joins the China Artist Association and is listed as a "young painter."

In conversation with Luo Gongliu, who had returned from study in the Soviet Union, he learns that Western critics were of the opinion that Chinese people were unsuited for doing oil painting, so he decides that he will never again do Chinese ink painting. He will paint only in oils.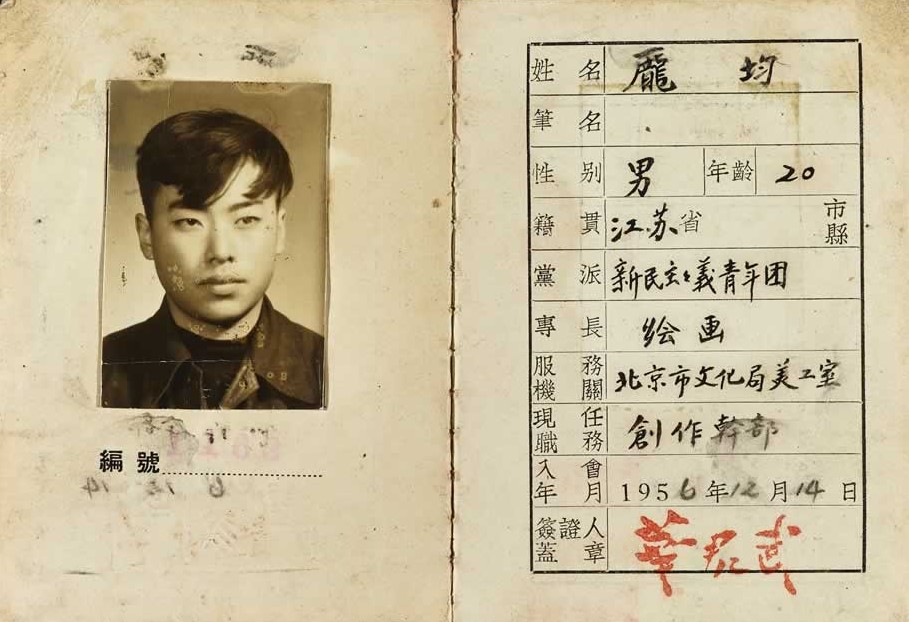 Pang Jiun's membership certificate in the China Artist Association, 1956.
1957
In late July, when the Chinese Communist Party's Anti-Rightist Campaign is in full swing, Pang Xunqin is falsely painted as a rightist. The health condition of Qiu Ti, who was hospitalized, deteriorates and she suffers heart failure. Pang Dao, a CCP member, is detained by the party for one year for observation and sent to labor reform in the countryside, but Pang Jiun, however, has his CCP probationary membership revoked.

The "gray tones" of his oil paintings are criticized as reflective of a dark personality, of one who has lost confidence in socialism. However, this catastrophe does not deter him from his pursuit of gray tones. Instead it prompts him to work even harder in the next decade on studying how to make gray tones more vivid than contrasting colors.
1958
On April 8, Qiu Ti passes away at the age of 52 in Beijing Union Medical College Hospital. Because of the Anti-Rightist struggle, she cannot be laid to rest in a tomb, so Pang Jiun has no choice but to place her ashes for the time being in his home. Later on, these are placed for several years in Beijing's Babaoshan columbarium, but Pang is then forced to have them buried in a nameless mass tomb deep in a mountainous area. Pang is thoroughly shamed by this but has no choice, and it becomes a source of lasting anguish.

The Beijing Bureau of Culture is downsized and merged into the Beijing Fine Arts Company, a cultural enterprise under the jurisdiction of the Bureau of Culture, and its business consists mostly of exhibition layouts, the sale of reproductions of cultural objects, and other cultural activities. Pang Jiun is here engaged mainly in the creation of oil paintings.
1959
He works for the Propaganda Department of the Ming Tombs Reservoir Worksite Headquarters, where he responsible for worksite propaganda.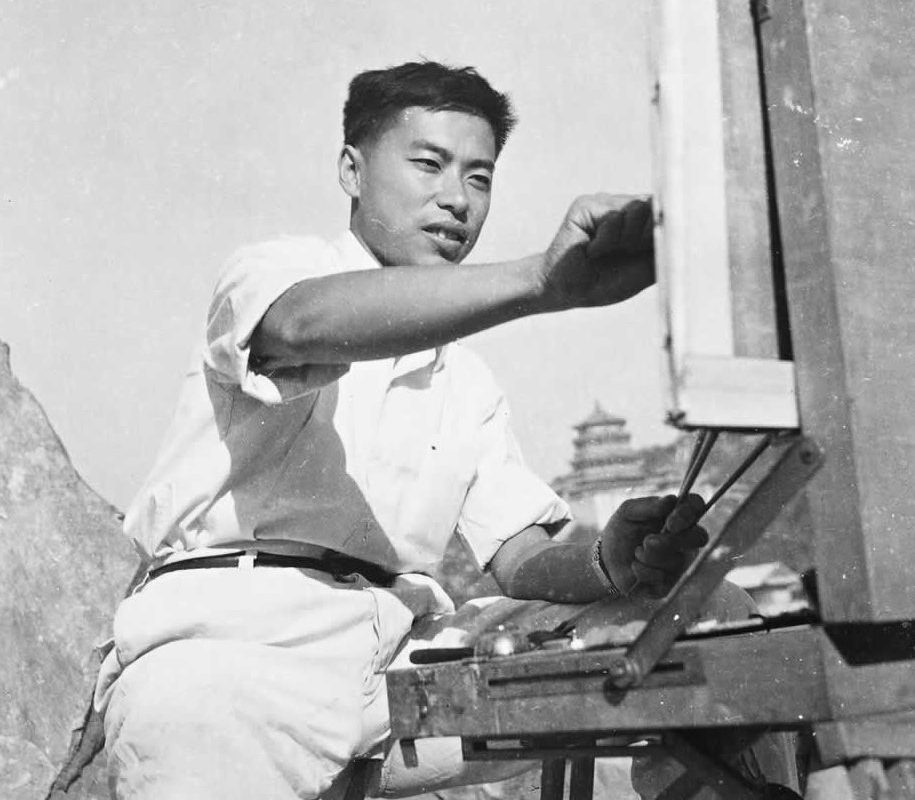 Pang Jiun painting at the Ming Tombs Reservoir in 1959.
In October, his paintings The Worksite Laundry Group, The Cultural Palace of Nationalities, and Peking Duck Farm are exhibited in the "Beijing Municipal Fine Art Exhibition Commemorating the Tenth Anniversary of the Founding of the People's Republic of China." Of these, The Worksite Laundry Group, a large oil painting that shows the Ming Tombs Reservoir, is widely praised, and it is listed as the most popular painting in the exhibition according to a poll by the China Artists Association. The eminent Hong Kong ink painter Ren Zhenhan praises it by saying, "The composition is as beautiful as a piece of music." Even Pang Xunqin, who always stays at home at this time because of the Anti-Rightist Campaign, goes to the Forbidden City to see it three or four times.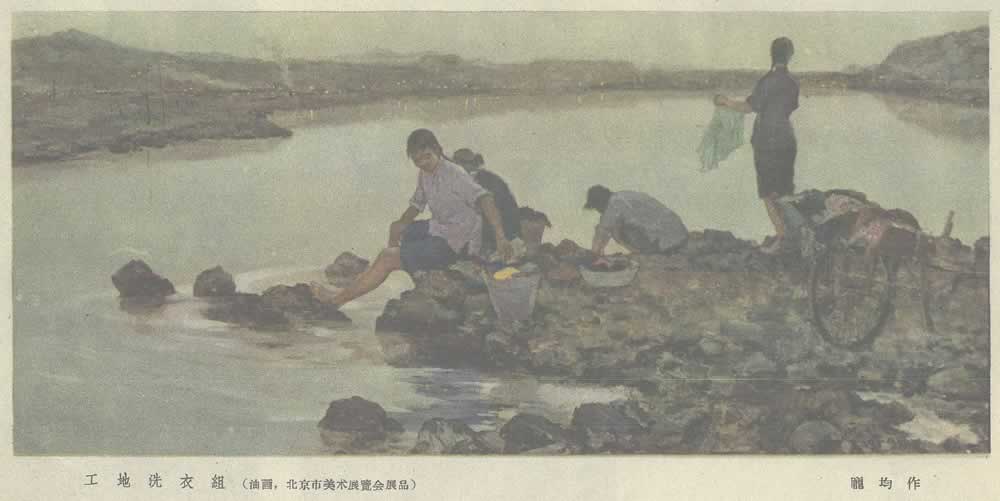 The highly lauded The Worksite Laundry Group, which was displayed in the "Beijing Municipal Fine Art Exhibition Commemorating the Tenth Anniversary of the Founding of the People's Republic of China."